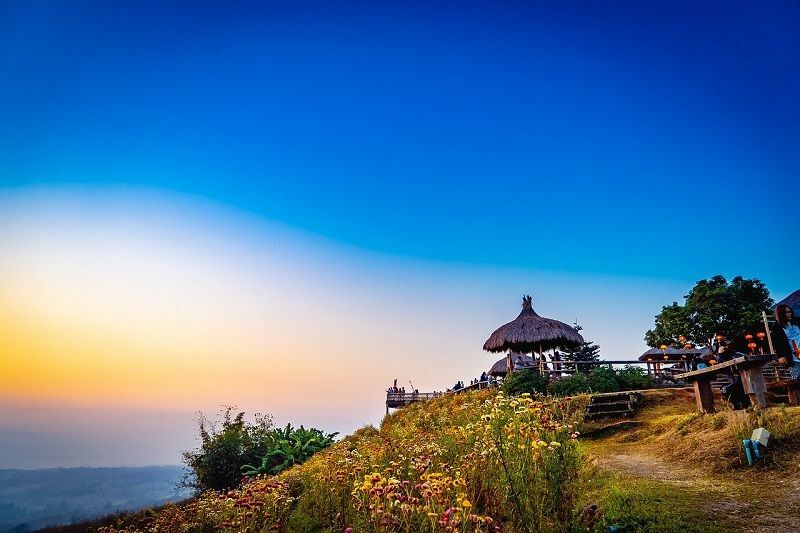 A backpacker travel guide to visit Thailand on a budget
Backpackers I love to trek through the amazing Kingdom of Thailand. So, its ancient towns, local markets, exclusive hill tribes, and plethora of natural attractions are a dream for most travelers. However, with hiking there is the desire to spend as little as possible. Here we have the best places to visit on a budget that offer a great experience while being affordable.
Best Places to Visit in Thailand on a Budget
1. Paï
Pai is one of the best kept secrets of those visiting Thailand on a budget. Known as a bohemian-style rural town, backpackers can certainly have a relaxing time amidst the striking hills and countryside of Mae Hong Son province. With its natural springs, waterfalls and whitewater rapids, the city is a must-see for nature lovers. And, Pai is also home to the exotic villages of the Karen Hill Tribes and Yunnan Hill Tribes which provide a glimpse into the lives of these minority populations. With plenty of inexpensive places to stay and eat, Pai is a great place for those venturing across the country for a dime.
2. Chiang Rai
The northernmost and largest city in Thailand, Chiang Rai still feels very local and has a unique regional identity. Home to the famous White Temple, or Wat Rong Khun, the city offers must-see attractions. In addition, the city is close to the Golden Triangle, where Thailand, Laos and Myanmar meet. Here, travelers can get a nice picture of the meeting point of the triangle and stay in a budget hotel conveniently located near the night markets. This subdued city provides a glimpse into local Thai life for those interested in the real Thailand.
3. Chiang Mai
Known as the unofficial capital of northern Thailand, Chiang Mai is the big city in which a lot can be seen and done. Infused with Lanna culture, this is one of the most beautiful and friendly towns in the country. The old town surrounds many exotic temples that exude the old Thai way of life. In addition, the city includes nearby Karen Hill tribes in which visitors can see how one of the most oppressed minorities lives. Travelers can find almost everything to do here while staying in budget accommodation. The city is known for having a friendly backpacker community with an exciting nightlife. The city is certainly famous for its temples, in which backpackers can get to these beautiful attractions without spending too much.
4. Ayutthaya
This ancient city was once the second capital of Thailand and is known for its magnificent ruins of ancient temples. For history buffs, this city offers an educational tour of the country's history while offering breathtaking views. The old city center is located on an island formed by rivers. Here, visitors can see Wat Phra Si Sanphet and Wat Phra Mahathat, which features a large Buddha head surrounded by tree roots. It's a great place to take a day trip, and if you want to stay overnight, the accommodations are definitely wallet-friendly.
5. Sukhothai
Known as the first capital of Thailand, this ancient city is also home to many famous temples and statues. As most are located in Sukhothai Historical Park, which is a UNESCO World Heritage Site, the temples are protected and well maintained. Although Sukhothai is a small town and largely untouched by mass tourism, it is a cultural gem that must be explored. Foodies will also find this city exciting as it is highly recommended to try the famous Sukhothai noodles.
6. Bangkok
The capital of Thailand hardly needs an explanation of why to visit. However, for travelers on a budget, there are a few places that are best to see and stay. Khao San Road is an iconic backpacker route that has nightlife bars, street food, and inexpensive hostels that can also organize the rest of your trip cheaply. Moreover, the Khao San district is located in Bangkok Noi, close to the great tourist attractions of the Grand Palace, Wat Pho, Chinatown and the unique floating markets. Although Bangkok is huge, settling in this area will help make the city smaller while also gaining access to cheap accommodation and nearby attractions.
7. Kanchanaburi
Famous for its bridge over the River Kwai, this is a must see for backpackers who want a bit of nostalgia. As the bridge is part of the WWII Death Railway to Myanmar, it is a must-see for those interested in the history of the region. The city is home to a vibrant backpacker scene here, where you're sure to find like-minded people traveling across the country on a budget. With stunning scenery and natural scenery, Kanchanaburi is a great place to experience beautiful waterfalls, such as Erawan Falls. Additionally, for those who want a spooky experience, the Hellfire Pass is definitely recommended.
8. Krabi
Still relatively untouched by mass tourism, Krabi teeming with natural beauty. Here you can venture out to neighboring islands, while enjoying the backpacker culture of a small town. Ao Nang and Railay Beach are popular sandstrips that offer epic rock climbing and other adventure sports. With plenty of budget hotels and hostels, Krabi is a much more toned down version of Phuket. Backpackers will surely appreciate its charm off the beaten track, while having access to many activities and magnificent landscapes.
9. Koh Samui
Known as the jewel of the Gulf of Thailand, this stunning island has everything you need to experience a slice of island life. And, being close to the other famous islands of Koh Tao and Koh Pha Ngan, this is the perfect place to stay. With inexpensive ferries leaving daily to the surrounding islands, Koh Samui offers all the luxuries of a small town while being a tropical paradise. With stunning beaches and natural attractions, the island caters to some longtime foreign residents who bring a special touch to the island. Locals have also contributed to the development of this virgin land, giving it the much-desired local accents visitors have come to expect.
10. Phuket
While Phuket is overall much more expensive as a destination, it still offers budget hotels that are still part of the backpacker route. The charming Old Town of Phuket serves as the city center, offering shopping malls and all the developed delicacies some may wish to experience. However, Patong is a party town where backpackers can stay close to the beach while enjoying a night out. Besides shopping, those visiting on a budget will find Phuket absolutely beautiful with its 30 beaches and neighboring islands. It may be the best place to end your trip to the Kingdom as it is one of the most expensive places to see, but it also offers an international airport where it is convenient to leave the land of smiles.
Traveling through Thailand on a low budget is certainly possible as there are many places in the country that cater to such tourists. In addition, hostels, cheap hotels, and street food are plentiful. Backpackers will surely be delighted with the number of inexpensive things to do and see in this beautiful country.
Get more from The Thaiger
Contact us to discuss advertising solutions.
Download our app on Android or iOS
Give your opinion on our Thailand forums
Subscribe to our daily email newsletter
Subscribe / Join YouTube for Daily Shows
Like / Follow us on Facebook
Follow us on Twitter
FOLLOW US on Instagram