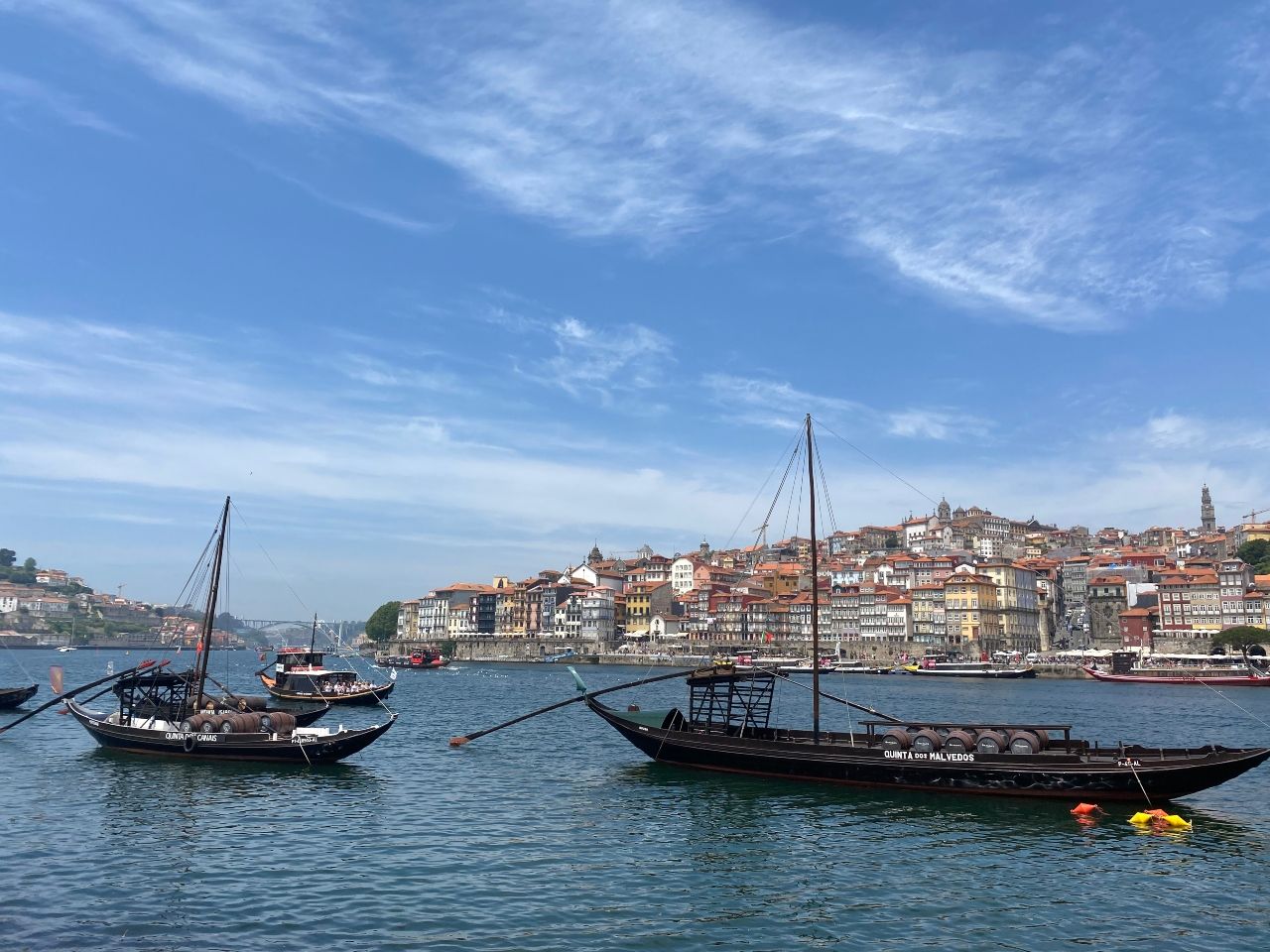 A whirlwind tour of Porto, Portugal
Although often hidden in Lisbon's shadow, the coastal city of Porto is anything but a poor relation. It combines culture, history and a bustling food scene with plenty of charm. And given that it lends its name to its country and its world famous liquor export, it deserves some attention.
Portugal's second city is a UNESCO World Heritage Site which is located in the northwest corner of the country at the mouth of the Atlantic. A convenient 2.5-hour flight from the UK makes this an attractive option for a non-stop visit.
Here are some sights, tastes and experiences to add to your schedule.
Discover the views
Getting high is one of the best ways to establish your bearings, and in Porto, the options are plentiful. The majestic Ponte Dom Luiz steel arch bridge offers a double-decker crossing of the Douro River. Designed by a disciple of none other than Gustave Eiffel, it is one of six bridges that span Porto's waterway. Opt for the upper level of the bridge and cross along the clanking yellow yellow trams while drinking in your first impressions of the delightful Douro River and its banks.
Jardim do Morro, a pretty public park dotted with palm trees, greets you on the other side, providing another excellent vantage point with picture-postcard panoramas of Ribeiro opposite. This ancient quarter's delightfully twisted merchant houses, colorful terraces, and historic skyline look great from any angle, and Jardim do Morro's peaceful green space is particularly eye-catching. Discover the monuments, including the Clerigos Tower, a needle-thin Baroque bell tower piercing the view at the top of the hill.
Come back to earth over uneven terracotta roofs and land in the Vila Nova de Gaia neighborhood via a five-minute cable car, taken from the entrance of Jardim do Morro.
Enjoy Porto
It is impossible to take more than a few steps along the Vila Nova De Gaia side of the Douro River without encountering the fortified wine and namesake of the city. The entire river bank and surrounding areas are dominated by the familiar names of myriad Port wine cellars, each offering tours and tastings. Sampling and learning at least one or two is a must.
If the multiple options seem overwhelming, Sandeman is a good place to start. Here, a tour of the airy cobblestone cellars and museum, led by the mysterious caped hero synonymous with the Sandeman logo, comes complete with a lesson in the history of alcohol advertising. As your guide to the sombrero-sporty will explain, Sandeman was one of the first wine brands to label and advertise its product.
Although port is a traditional drink, don't miss the sleek converted shipping container bar out front, where mixologists give the age-old drink a modern twist with an intriguing range of cocktails. Treat your taste buds to a Sandeman Sangria or a Port and Sandeman Fizz ice cream combo.
The neighboring port house, Porto Cruz catches the eye. Its striking blue-patterned tiled facade rises up to an open-air rooftop bar. On a hot day, enjoy 360-degree views of the Douro and its towering bridges and sip more of the famous drink accompanied by the laid-back beats of a resident DJ.
Where to eat
When hunger strikes, you'll find a microcosm of Porto's food scene in the historic Mercado Beira-Rio. The cramped food hall dates back to the 1800s, and from plump prawns to pastries, cod cakes or vinho verde, to cheese platters and ice cream, the traders offer something for every palate. Sit at a table indoors or outdoors and follow your senses to discover what tickles your fancy.
For dinner, go to Miss'Opo. This laid-back eatery is a minimalist guest house and clothing boutique, but its creative Portuguese plates are the main attraction. With just one scrapbook-style handwritten menu that changes frequently, your experience here is sure to be unique. Savor the freshest flavors from peppery risottos to rich Portuguese sausages surrounded by industrial concrete walls and quirky mismatched furnishings.
It's easy to spend hours on end in Porot and the Praia Da Luz bar and restaurant, with its tiered terrace and own beach, is designed to hold steady. Order fresh local specialty sardines in a zesty tomato sauce, washed down with a crisp green wine, and sit back to admire the Atlantic breakers.
Enjoy the Douro River
In Porto, a daily dose of the Douro is essential, so set your alarm clock to watch the sunrise over the river. Start the day with a run or stroll along Avenue Gustave Eiffel towards Mr. Eiffel's masterpiece, the Maria Pia Bridge.
Here, you'll come across fishermen rather than tourists as you see the waterway come to life. Crane your neck to marvel at the whitewashed walls of the ancient Serra Do Pilar monastery with its circular church and cloister bathed in beautiful morning light.
Cross the Douro by water. The Douro river taxis, inspired by the wooden cargo Rabelos that carried the port of the Douro Valley to the wineries of the city, offer a quick route to Ribeira.
Ribeira bank
Although the banks of Ribeira are teeming with tourists and souvenir stalls, its appeal is magnetic. Stroll around Praça da Ribeira, a cobbled square packed with bars and restaurants, and pause for a coffee to watch boats heading out to the Atlantic or down the Douro Valley.
It is recommended that you ascend from the water's edge at a relaxed pace with regular breaks, as the steep, cobbled maze-like streets and steps are designed to burn your thighs.
Sao Bento Train Station
Porto is not a place you want to leave quickly, but regardless, its station, often cited as one of the most beautiful in Europe, is worth a visit. Ignore the departure signs and get lost in the fascinating tiled entrance walls of Sao Bento. Thousands of finely hand-painted ceramics document Portuguese history and life stories in their blue and white glaze, taking you to any destination.
Take the tram
For a change of pace, hop on line 1 of the rickety tram from Ribeira to Foz. The dizzying trip takes about half an hour and follows the river to the seaside settlement. With its peaceful tropical gardens and long promenade, Foz exudes an air of calm.
Where to stay
The contemporary and chic One Shot in the União de Freguesias do Centro district of Porto – old town – is convenient to just about everything. It is just 600 meters from City Market Bolhão and 800 meters from Ferreira Borges Market. Double room £118 per night.
CHECK AVAILABILITY
Fact sheet:
FLY: The nearest airport is Francisco Sa Carneiro Airport, located about 10 kilometers north of the city.
Compare flights with Skyscanner.
FORM: Porto is the most important railway junction in Portugal. There are two main stations.
Sao Bento station is located in the center of Porto, it is the terminal for regional trains that travel between Porto and northern destinations (such as Braga, Viana do Castelo and Douro).
Campanha station is the terminal for trains departing and arriving from the south, including Lisbon. A scenic train journey between Porto and Lisbon takes around three hours.
Estacao de Campanha is also used by trains for international rail connections.
Also Read: Top 10 Things to See and Do in Aveiro, Portugal