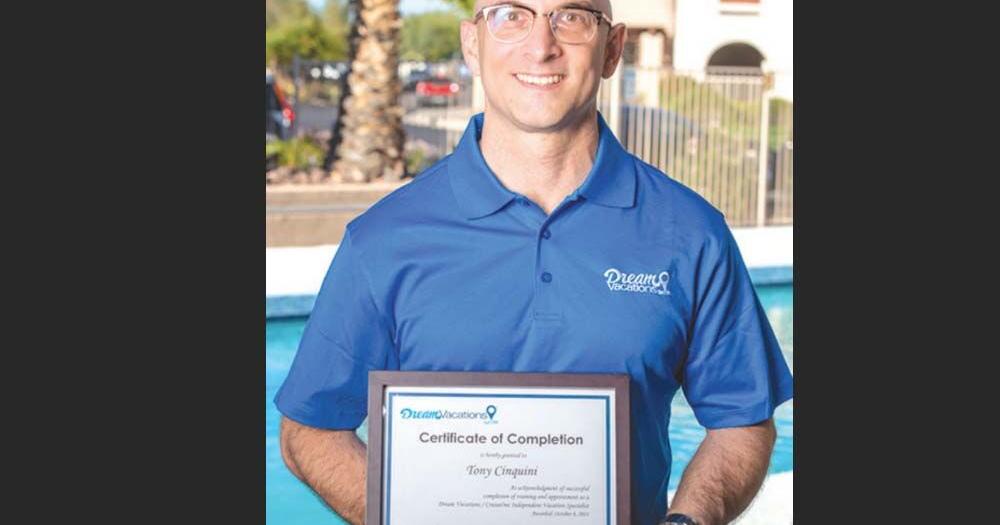 Glendale veteran wins travel agency | News
Anthony Cinquini wants the best for Americans. He helped protect their freedoms while he was in the military, and now he's making his dreams come true.
The Glendale resident and Air Force and Army veteran has won a Dream Vacation home travel agency franchise valued at $ 12,300. Cinquini is one of the five winners of Operation Vetrepreneur: Become Your Own General.
Cinquini was one of 569 applicants to apply for this annual business plan competition, which was open to former members of the military, air force, navy, marine corps or coast guard. who are retired, off-duty and / or honorably discharged prior to the contest start date last May, as well as community heroes such as first responders, educators, and healthcare professionals who are residents of the United States.
He went through a three-part application process that included creating a business plan, video essay, and phone interviews.
"The mission of my travel agency is to inspire travel and deliver memorable vacation experiences to all clients, while saving them time and money," said Cinquini.
"As a full-service travel consultant, I turn my clients' dreams into reality and I thrive in providing, through my services, the one thing we all seek: happiness. "
Cinquini said he learned about the competition as he researched franchises in which to buy. He was impressed that Dream Vacation was the # 1 franchise for veterans.
"It was an affordable, flexible, in-home franchise," he said. "I went to the website and read about it. I discovered the contest, and it was their 10th year. I looked at the requirements for this, and it involved creating a business plan, a few interviews, and creating a video. I decided to go in, and it was just an amazing trip.
Cinquini began his military career shortly after graduating from high school in Chicago. He spoke with an Air Force recruiter, who learned that Cinquini is bilingual.
"I spoke Italian, so I signed up as a linguist," he said. "I served from 1999 to 2003 as a Korean linguist. At the time, I thought I could choose a language, but I don't.
He experienced a break in service from 2003 to 2005, during which time he obtained his baccalaureate. From 2005 to 2010, he served in the military and reached his last rank of captain.
"I have been to about fifteen countries," he said. "I wish I could have traveled more. In the service, I wanted to serve, but I thought I could see different parts of the world. Unfortunately, that did not happen.
"My wife is from the Philippines and has been able to travel to many different regions. My sister-in-law was a permanent resident in Singapore. She worked for a cruise line. I wanted to experience this with my family. I thought it was something that excited me.
His passport includes summer stays in Italy, from where his parents immigrated.
"The love of travel was instilled in me," he said. "I like to discover new cultures. It's something I never thought possible: to turn my hobby into a real occupation. It really is a labor of love. I am really happy to help others get what they want and find dream vacations and memories and then be able to live them with my family.
Dream vacation / Anthony Cinquini
623-444-8753