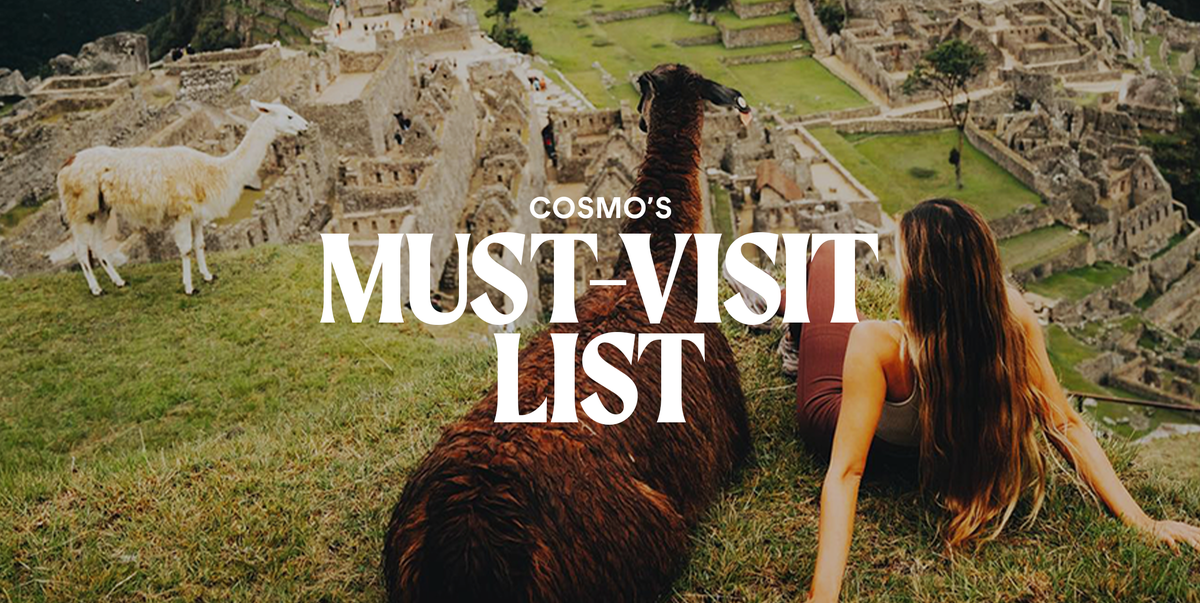 Sacred Valley Peru Travel Guide 2022
[ad_1]
If your most recent reference to Peru has just looked The emperor's new routine, it's time to update it. An absolute trip that may never have crossed your mind before is the Sacred Valley in Peru. You will be surrounded by views of views: of Machu Picchu, ancient Inca ruins, the city of Cusco… Note that you are about to hike to reach said views, and you must ensure that your body is ready for this altitude (maybe reduce the wine the day before this particular excursion). But don't worry, there's a candlelit spa on our must-visit list to visit next so you can get a massage after the hike.
And whether this is your first international trip after the vax or you've been back for a while now, get ready to fully immerse yourself in Peruvian culture, which means strolling through bustling markets, sights historic sites and cathedrals. You're also not allowed to leave without trying spicy stuffed peppers and breakfast soup at least once (trust us).
Before we get down to business with our highly detailed and highly efficient seven-day itinerary, you should know that getting there is neither quick nor easy. But that, along with fluffy baby alpacas, spiritual awakening views and forever food to eat, is part of what makes this vacation one you'll forever brag about. Keep scrolling for a premium Sacred Valley Peru travel guide you can follow for the true Peruvian experience.
Day 1 : Arrive and acclimatize
Let's rewind a bit: weeks before you land in Cusco, a city that's about 11,150 feet above sea level, you'll want to make a reservation at the StarDome Peru, an aptly named hotel in Ollantaytambo with a perfect glass dome for stargazing, if that's your thing. During the 90-minute bus ride from Cusco, enjoy mountain views and dream of the four-course Andean tasting menu that awaits you at the hotel's Apu restaurant. (Pro tip: Avoid alcohol tonight for faster altitude acclimatization.)
This content is imported from Instagram. You may be able to find the same content in another format, or you may be able to find more information, on their website.
Day 2: Explore the Sacred Valley
This region of the Andes is home to the ancient Inca Empire and photogenic wonders like the pastel-hued salt mines of Maras and the terraced hills of Moray (which are worth a look). You can book a tour with a local guide, but public transport, such as a combined (shuttle van) or a collective (shared taxi, roughly equivalent to an Uber pool), will also do the job. Buy the fancy pink salt on-site or sample it on the highly sought-after (ahem, make a reservation) eight-course tasting menu from chef Virgilio Martínez at Mil. After lunch, walk through the stunning ancient terraces, then return to Ollantaytambo to stroll through the Archaeological Park. Be sure to dine and stargaze before packing for your next hotel.
Day 3: Walk around the town of Machu Picchu Pueblo
While waiting for the train to Machu Picchu Pueblo (aka Aguas Calientes), hang out at Sunshine Cafe (grab the breakfast bowl) or sip a cup of locally roasted coffee at Cafe Mayu, or both. Bring those relaxing vibes with you on the less than two-hour journey along a raging river, tranquil villages, and Inca sites. Check in immediately to the Inkaterra Machu Picchu Pueblo Hotel, where you'll spend the next two nights, so you can explore the hotel's 12 acres without a suitcase. Then, head into town to sip Inca Kolas at outdoor cafes and indulge in casual dining at the Tree House Restaurant.
Day 4: Hike around (and in) Machu Picchu
This ancient Inca citadel was abandoned at the time of the Spanish conquest in the 16th century, but its energy is undeniable. Over a million people visit the hallowed grounds each year now (meaning: you must book tickets at least three months in advance) to marvel at the precision hand-cut stones dating back to 1400 CE . That's part of why catching the early bus to start a morning hike along the Inca Trail to the top of Huayna Picchu is worth it (your hiking ticket also lets you explore parts of Machu Picchu). Once you've had your fill of walks through historic sites, satisfy the hunger with a post-Machu Picchu cerveza and a burger at Machu Picchu Snack Bar, tucked away on the side of the exit. Save space though: you'll end the evening with a Peruvian feast, like lomo saltado Where rocoto relleno— at Inkaterra's dining room.
Day 5: Spa day, then Cusco!
Sleep in and enjoy a late buffet breakfast at the hotel as most trains don't leave for Cusco until the afternoon, giving you plenty of time to pamper yourself. The scorching eucalyptus and candlelit Andean sauna at Inkaterra's Unu Spa is a great way to spend 15 minutes, but the real relaxation comes with the spa's signature massages or exfoliations with coca leaves. Then, pack your bags, check in, and have lunch before setting off on the approximately four-hour train ride to Cusco. But not only any Train ride: Treat yourself to a ticket for the luxury Hiram Bingham train if you like free cocktails, entertainment and fine food (they are). Check into the historic monastery-turned-hotel and art gallery Belmond Hotel Monasterio and sleep well.
Day 6: Explore the city of Cusco
The San Pedro market opens early as locals line up for freshly squeezed juices and caldo de gallina (a traditional breakfast soup). Take some cancha (corn nuts) for your 10-minute stroll through Cusco's main square, Plaza de Armas, where you'll hop inside Cusco Cathedral for an immersion in art history, keeping a eye on the Last Supper painting in which the supper is a guinea pig-like chinchilla. Swap churches for bohemians as you shop the cobbled streets of the San Blas district, stopping briefly for a bowl of the famous chairo (Andean stew) or cuy chactado (fried guinea pig) at Quinta Eulalia.
Cusco's nightlife is surprisingly wild, with a mix of backpackers, expats and locals drinking pisco sours and dancing in high-altitude bars. It's best to start with a relaxing dinner at Chicha por Gastón Acurio before ending up at Paddy's Irish Pub (the highest Irish pub in the world) or the dance floor at Mythology. Remember, what happens in Mythology stays in Mythology.
Day 7: Shop at Písac Market before departure
Písac, about 45 minutes from Cusco, is home to a famous low-key Sunday market where people come from all over the region. You will find handicrafts, fruits, spices and works of art in this hyper local shopping place. Look for hand-spun blankets and alpaca fleece clothing, then reserve them in Cusco to pack and check. Be sure to leave just enough time for one last meal: Tamales Josefina's tamales, sold in any corner of Portal de Belén. Eat the savory there and save the sweet for the taxi ride to the airport, where you'll begin your return journey. Kawsaypaq! ("For life!")
This content is created and maintained by a third party, and uploaded to this page to help users provide their email addresses. You may be able to find more information about this and similar content on piano.io
[ad_2]
Source link